Besides being able to carry any kind of load from cargo, to pallets as well as machinery. Our routes are as follow: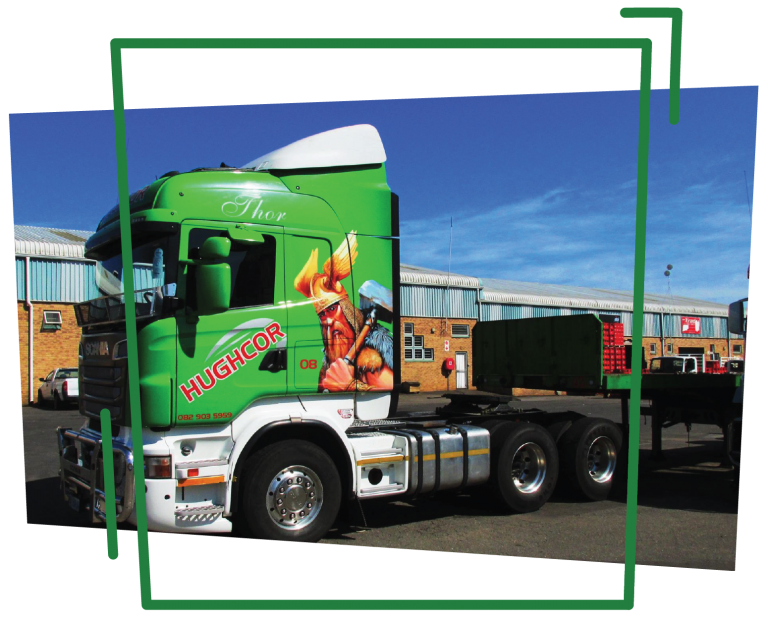 We also provide loads locally within Kwa – Zulu Natal and other more immediate areas.
Our Trailers are equipped with air suspension to allow us to carry your more fragile loads such as tiles, marble, and medical equipment. We also provide assistance to other hauliers if they are ever in the need of a load out. If we ourselves are not able to do so we ensure another reliable haulier is able to take the load. We are also able to accomodate abnormal loads if our clients require it.
Our offices are located in the eThekwini municipality, in Waterfall. The warehouse from which we operate is 650m² and enables us to store our clients merchandise if necessary. We also have a 4 tonne Hyster and a 2.5 tonne Toyota Forklift on premises to further assist with loading and offloading.
The Hughcor team of drivers have all been through ATTAC (Africa Transport Training Academy Course) and the Hughcor team was awarded with excellence. This demonstrates the length to which Hughcor goes to provide consistent value delivery for all their clients.