Hughcor is proud to be a general haulier in the transport of a wide range of goods (excluding hazardous cargo) throughout South Africa, and operating since January 2008. The company, which was founded and is run by Ted and Ruth Hughes, has managed to remain one of the most popular choices for haulage throughout this country, with the help of their dedicated team and drivers. To learn more about their history and capabilities, please feel free to browse through the site.
Ted started trucking in the United Kingdom in 1968, with a tipper. His first contract was with the largest limestone quarry in the world, Foster Yeoman. Eventually Ted had up to ten articulated trucks running throughout the United Kingdom and the whole of Europe, driving one truck himself. In 1980 Ted emigrated to South Africa and started working for Swift Transport (International) in Harare, Zimbabwe as the Kwa – Zulu Natal manager.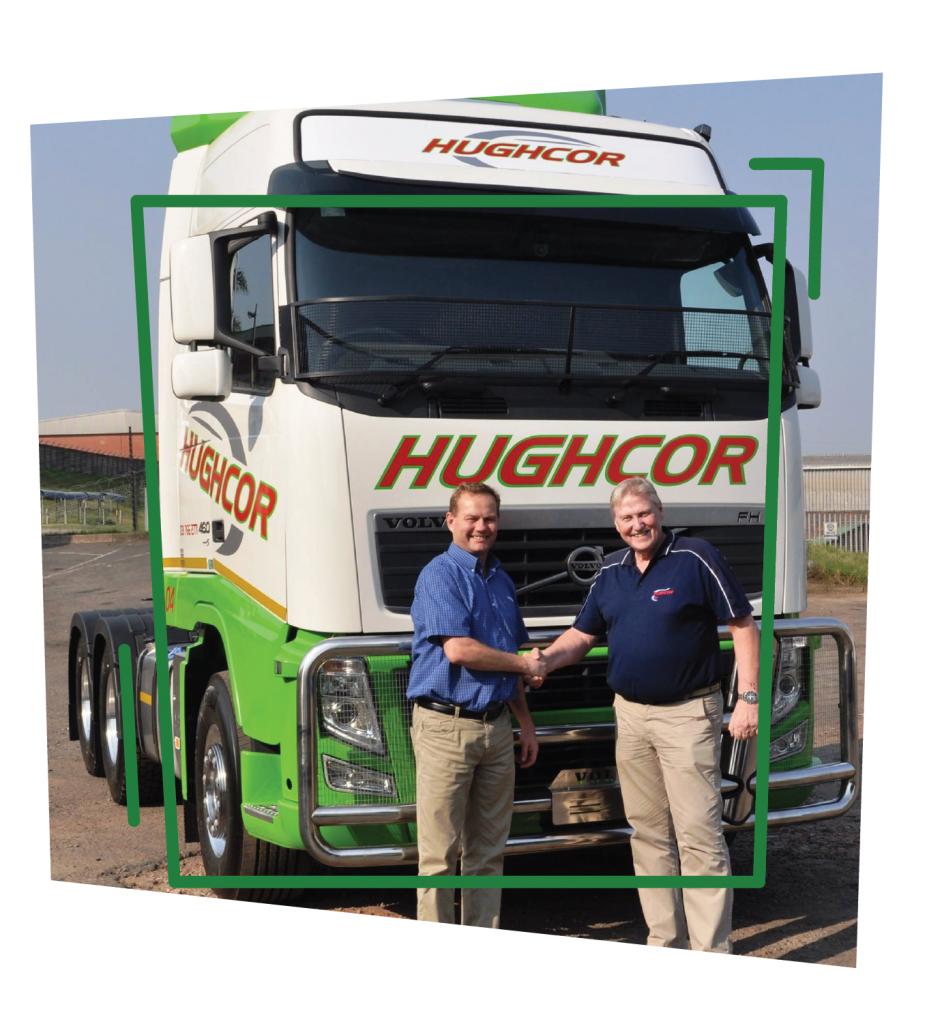 Hughcor opened it's doors in January 2008, with two new Scania 480hp trucks with superlink trailers. In April 2008 another Scania 480hp with a superlink was added and then in July 2008 a Volvo 400hp also with a superlink joined the growing fleet. The fleet continued to grow along with Hughcor's budding success and in August 2009 a Volvo FE 8 tonner with sides joined the fleet to help with local distribution. That same year in May a Freightliner Columbia with a 14.2 meter air suspension trailer was purchased which now allowed Hughcor to take on their clients more fragile loads widening their already diverse portfolio. The Columbia was followed by the first of the Scania 500hp trucks in July 2010. The latest addition to their team is the Euro 4 620, or Thor. Their new flagship truck Thor is part of a new line of trucks designed to have a reduced impact on the environment. This is a new direction for Hughcor who are trying to keep apace with international trends, and have a more positive impact upon the environment.
For information on our current fleet, click below
Ted's wife Ruth has been involved in transport with Ted for the last twenty years and runs the office. Ruth liaises with all the clients, suppliers and sub-contractors on a continual basis, and is a highly experienced and skilled operations manager.
Their daughter Siobhan joined the company after finishing her degree at the University of KwaZulu Natal, and obtaining a diploma in Events Management at Damelin College. Siobhan takes on a few different roles in the company, as she handles part of the accounts department, as well as handling figures in our diesel and our earnings.
Dinky Green joined Hughcor in January 2010 and works with Ruth in liaising with clients and has become an invaluable part of the team.
Nick Yeatman is the latest addition to the Hughcor team, he started his tenure at Hughcor in November 2016 as the fleet manager, and has since been promoted to General Manager.